For Mauviel's Valérie Le Guern Gilbert, maintaining the traditions of a nearly 200-year-old company with an eye to the future is a delicate balance.
"When you work in a family business, you are just one generation in the middle of the story," says Gilbert, the first woman in seven generations to run the esteemed French cookware company. So when it came time to celebrate the company's 190th anniversary, Gilbert made sure that Mauviel's 19-piece commemorative copper cookware set, "Ernst," named for Mauviel's founder, told a story bridging the 19th and 21st centuries.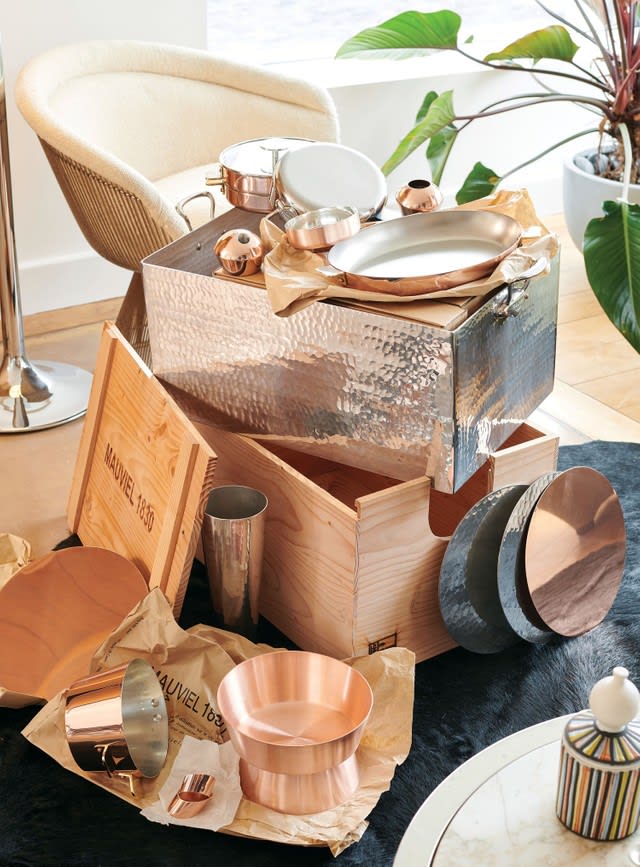 Highlights inside the set's hand-beaten aluminum box include a soufflé mold, an oval pan—ideal for a potato gratin—and a charlotte mold, for desserts such as charlotte aux pommes, trifles, and puddings. The egg cups are as useful for a soft-boiled egg as they are as a pen cup. "Personally, I use the Champagne bucket to put my flowers in," Gilbert, 53, says.
Gilbert's favorite piece in the set is the bilevel copper-stainless steel smokehouse. "It's a mix of old and new. The handles represent the past, while the combination of stainless steel, copper, and the glass lid is a nod to modernity. It's nice on the table, nice in the kitchen, and because it's a steamer, it's on trend with healthy eating."
Founded in 1830 in the Normandy town of Villedieu-les-Poêles, which roughly translates to "God's City of Pans," but is better known as the City of Copper, both the company and the cookware have been passed down generation to generation. As the last copper factory still ringing with the sound of hammering, in a city that was once copper's capital, Mauviel is the progenitor of copper manufacturing, a responsibility to which Gilbert is keenly attuned.
"When I say that Mauviel is a family business, I'm not only talking about my family, but also about our family of employees," Gilbert says. "Ernst" was partly designed with its employees in mind; new designs keep coppersmiths actively engaged with centuries-old manufacturing techniques, inspiring confidence in the longevity of the company.
Since its humble beginnings, the family-run company has retained its ties with tradition; choosing to manufacture its products almost entirely by hand, just as it did 190 years ago.
Gilbert became Mauviel's first female president in 2006, replacing two men: her father and her uncle. "I knew people were watching me: I was the boss's daughter, I was a woman," Gilbert recalls. "One of my friends told me everyone in town was sure I would fail. You have to be patient; you have to prove that even if you are a woman, even if you are the daughter of your father, you can succeed."
And she appreciates the responsibility. "It's a way to help make society better for women; to prove that women have their place everywhere. One day, women won't have to prove themselves all the time. We can manage a company; we can have kids."
As Mauviel stands poised to enter the American market in a more pronounced way—with partnerships and collaborations with chefs, and a new e-commerce website—the proof, so to speak, is in the copper.
"If you really want the best tools to cook, it's with copper," Gilbert says. "Copper allows for the best conductivity, rapidity, uniformity, and control." Indeed, Julia Child stocked her kitchen with gleaming copper pots and pans, Jacques Pépin did a collection with Mauviel in 2017, Daniel Boulud's latest New York City restaurant, Daniel Boulud Kitchen, uses Mauviel's copper line for induction cooktops, and Chuck Williams stocked his first Williams-Sonoma store with Mauviel—purchased on credit.
As not everyone will be able to buy "Ernst," Gilbert suggests starting with one or two pieces, such as a sauté pan or a chef's pan, and building on. "The quality is forever."